MEET MIKE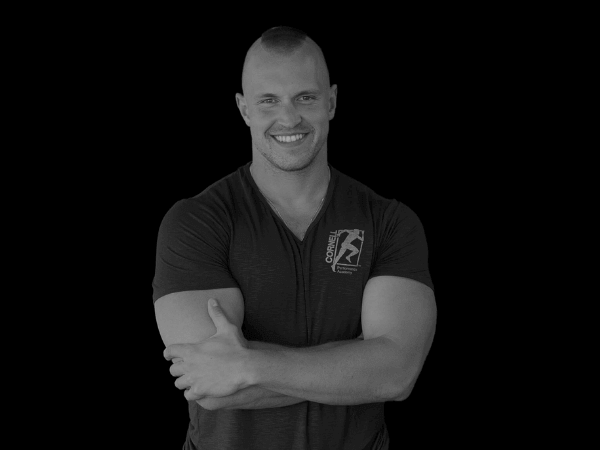 Michael Cornell
Owner, Head Performance Coach
Michael is a 5 year Canadian Football League (CFL) veteran who has dedicated his life to the concept of performance and breaking the mold. He has more than 15 years of hands-on experience with Exercise Physiology, Kinesiology, corrective movement patterns, and Sports Psychology along with several training and performance certifications. Michael is recognized as one of the top performance coaches in Canada.
Rate: $95 per session
Having competed as a top-level athlete beginning in high school, all the way to the CFL, I understand the physical and mental challenges it takes to succeed and perform at an elite level. I am dedicated to continuously study the human body and have more than 15 years of hands-on experience with exercise physiology, kinesiology, corrective movement patterns, and sports psychology. My goal is to be the best, and I will go to all lengths to help you achieve your physical goals. I am certified in many Personal Training Certifications including Sports Nutrition, Olympic Lifting, Kettlebells, Sandbells, Personal Training Specialist. I know the risk and commitment it takes to be an elite athlete. With my acquired knowledge and skillsets, I will create training programs geared for your progress that help with a safe development of skills, following adaptation principles to prevent injuries in the process.
Teaching young men and women how to transition to their sport's collegiate level is an integral component of the CPA brand. Watching their success has been my most outstanding achievement. I specialize in various sports, including football, rugby, basketball, baseball, volleyball, and hockey and have successfully trained CFL, CIS, US SPORTS, and NFL athletes.
I have assisted many clients in working through an injury with my background and training, including brain injuries, concussions, spinal fusion, shoulder, knee, elbow, wrist, and ankle. Over the years, I have specialized in helping clients rehabilitate severe injuries providing them with a quality of life they believed could never happen. My ongoing goals have been to provide a solution for hope and results outside of the medical realm. Assisting people to regain their quality of life is at the very heart of why I coach people.
In my athletic career, I was an OUA two-time team All-Star, two-time Defensive player with Ottawa U Gee Gee's in my CIS career. Along with a two-year captain position for my team. I was listed as the top 10 prospects with the Professional Scouting Bureau for the CFL. I played for five years with the CFL as a leading special team player, starting in multiple games in the Full Back, Linebacker, Defensive End positions, receiving a high honour of being Top 15 Special Teams player for three years in the CFL.
My coaching career has included four years as Head Football Coach OVFL/OFC. Giving back is an essential component of my coaching practices, volunteering for numerous elite sports camps, coaching positions, and motivational speaking engagements.
As a new Dad, I know the challenge of scheduling workouts and balancing career and parenthood.
I am confident in my coaching abilities and have proven that I can take anyone from all walks of life and transform them into their athletic potential.
Break the Mold. Rise Above.
Level up with Cornell Performance Academy, it's time to build your inner athlete.